What is sashiko?   I have two answers – a stitching style and a stitching technique.
JAPANESE-STYLE sashiko stitching developed in rural Japan in the 1600's.  Today the most popular technique for sewing Japanese-style designs is a running stitch.
Beautiful repeat designs were stitched on indigo blue fabric with white thread to patch and mend worn garments and bedding.
Patches and stitching were added until it became what we call BORO, from the Japanese word BoroBoro, meaning rags.  The Amuse Museum in Tokyo exhibits original boro pieces.
The repeat design on the boro vest is available to stitchers today as a sampler, pre-printed on fabric with a dashed line to guide your stitches.
Sashiko Pre-printed Sampler – # 0004 Saya-gata (Key Maze) – White
Japanese-style samplers were my introduction to sashiko.  I appliqued the finished pieces onto pillows and garments.
Sashiko is a one-stitch embroidery TECHNIQUE: 
Outline stitching
Pattern embroidery
Stitched shapes
Outline stitching:
A running stitch is used for outline embroidery and repeated designs (often overlapping).  Horizontal, vertical and curved lines are sewn with a space between each stitch; no stitches touch one another or cross over. Japanese:  Sashiko Moyozashi

Redwork is a form of outline embroidery.
Pattern embroidery:
A grid of stitches creates a pattern; horizontal, vertical and diagonal stitches often cross over (like cross stitch).  Japanese:  Sashiko Hitomezashi
Pattern darning is a form of grid stitching.
Darning samplers were made in Belgium, Britain, Denmark, Germany and the Netherlands between the 8th and early twentieth centuries. They were usually made by school girls as part of their education, either at home or in a school class.
Stitched shapes:
Varying lengths of closely worked stitches create a shape.  Japanese: Kogin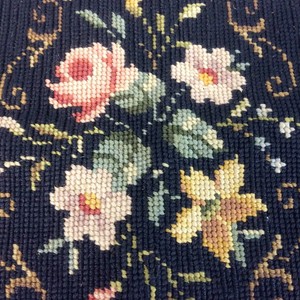 Needle point is a form of shape stitching.
Another resource for images is the Quilt Index.